Upcoming Events at The Sanfilippo Foundation
Events, News and Tour Opportunities
PLEASE READ THIS IMPORTANT INFORMATION: The recent changes under our Special Use permit, combined with the continually evolving Covid-19 situation, have limited our year-end opportunities. Please note that all events now require proof of vaccination or a negative test 72 hours prior and mask wearing at all times. We thank you for understanding our desire to keep all guests, the family and staff safe.
---
Sanflippo Virtual Christmas Concert Featuring Organist Dave Wickerham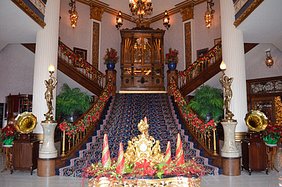 Now available online!
Filmed before an intimate audience of 50 guests (limited due to Covid and certain Village parameters this year), its two hours of Christmas and Holiday selections, with a few favorites that each demonstrate the dynamic range of the 5 manual/80 rank Sanfilippo Wurlitzer. Recorded and produced by organist and sound technician, Zach Frame, its the closest you can come to being in the Sanfilippo Theater while in the comfort of your own living room.
This Christmas Concert is available to you for a $20.00 (minimum) donation to the Sanfilippo Foundation. Plus, as a bonus, you'll receive the 30 minute Question & Answer session with Dave that took place immediately following the concert. It includes demonstrations on the console in answering the many interesting questions. Proceeds help the Sanfilippo Foundation support these independent artists, assist us with our showcasing the Collection and helping local and regional charities. It's a nice way to do your year end donation and receive Christmas music you can play for the holidays.
Upon purchase, you'll be emailed a private YouTube link for the concert, along with a second email of the receipt (from Paypal - our card processing service) for your donation. The Concert will be available to you through January 31, 2022, so you and your family may view it as many times as you like.
Please donate today:
---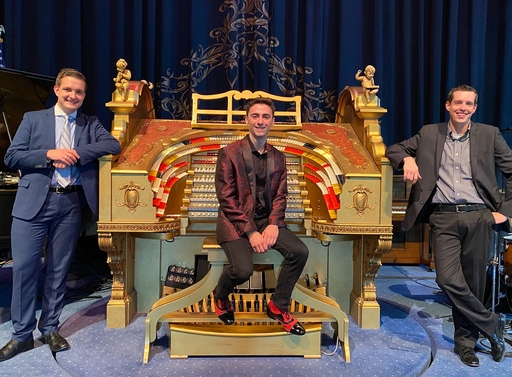 They returned for HALLOWEEN NIGHT! "Three Under 34" Concert, with Organists Nicholas Renkosik, Nathan Avakian, and Zach Frame. This was a Wurlitzer Virtual Concert benefiting the Sanfilippo Foundation.
By popular demand, we brought these three gentlemen back to perform as solo organists and as a group. We challenged them to top their sell-out, ground-breaking 2019 concert, and they've delivered.
View a video of the Concert: https://youtu.be/UKCXDCOKOU0
Please consider donating to the Sanfilippo Foundation so we can continue to help charities in need during these difficult times:
---
Watch an Organ Concert with one of our Charity Partners, St. John United Church of Christ in Palatine, IL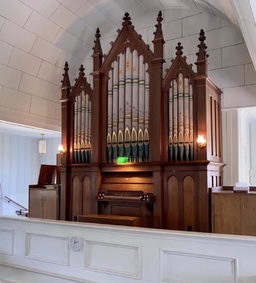 Watch the Concert: https://youtu.be/dnFy-cMO4hE
The Sanfilippo Foundation brings you another organ virtual concert, this time, on an historic 1885 Organ from St. John's United Church of Christ, in Palatine, Illinois. We feel seeing and hearing this organ will bring you a greater appreciation of organs and the music played on the early ones. This is an early "Tracker" organ which later graduated to the development of the theater organ, like the Sanfilippo Wurlitzer and others. Please enjoy the song selections from our Organist Nicholas Renkosik, as he demonstrates some Bach, some hymnal selections, and more. Also included in the video is a video of how this particular organ functions.
Donations accepted through Sanfilippo Foundation on behalf of St. John United Church of Christ in Palatine, Illinois (corner or Algonquin Rd and Roselle Rd). Proceeds benefit St. John's 1885 Organ Maintenance Fund and New Windows Fund. Any amount is appreciated.
Concert arranged and provided by the Sanfilippo Foundation and St. John UCC. Organist Nicholas Renkosik donated his performance, and Video and Sound production was donated by Zach Frame and C-2 Productions.
To Donate:
---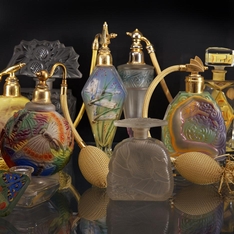 Various Dates - Guided tour of the new Perfume Passage at the Sanfilippo Estate
The Perfume Passage Foundation mission: Preserving the history, beauty, and artistry of perfume bottles, compacts, ephemera and related vanity items, the Perfume Passage Foundation seeks to educate and inspire visitors by illuminating the connection between perfume and the human experience.
We are gearing up for the holidays At the Perfume Passage Foundation. Come visit the unique window displays and travel through time and history with our intimate, docent-guided tour through the world of perfume bottles, vanity items, ephemera and much more.
For information and tour tickets for all four galleries, please visit Perfume Passage Foundation
---
Return to this web page often for an update of our events open to the public. You can also join our E-Newsletter List (below) and be among the first to receive notice of all our events, and how to obtain tickets.
---
Visiting the Sanfilippo Estate
The Sanfilippo Estate is a private residence not open to the general public except through pre-arranged charity events and pre-arranged group tours of 40 or more guests, and a limited number of corporate events. Interested groups may contact the Foundation Director by email: director@sanfilippofoundation.org for more information. We do not offer the Estate for weddings, wedding related activities, nor children's parties.
Special Events (concerts, gala fundraisers) can be arranged for Charity Organizations and Corporate Groups. Email the Sanfilippo Foundation Director: director@sanfilippofoundation.org. Please include a contact phone number.
Tour Groups: 3-Hour, Docent-Guided Tours of the Sanfilippo Collection are available for groups of 40 or more. Send an email to: info@sanfilippofoundation.org. Please include the name of your group and a contact phone number.
Individuals looking to visit the Estate are encouraged to find a group (such as your local libraries, park districts, senior centers, etc.) who can put together the required minimum for one of our 3-hour Docent-Guided Tours and then have the organization contact the Foundation Director; or you can visit one of the websites of the charities holding events at the Estate (links provided) and obtain tickets to an event listed; or you can attend a Sanfilippo Foundation event -- all are updated regularly on this website. We also encourage individuals to sign up for our E-Newsletter. On occasion, we offer individual tickets to a guided tour to our E-Newsletter subscribers. Our preference for initial contact is by email.
Join our mailing list:
Please be assured that we never sell or exchange email addresses, this is for the Sanfilippo Foundation use ONLY.