Upcoming Events at The Sanfilippo Foundation
Events, News and Tour Opportunities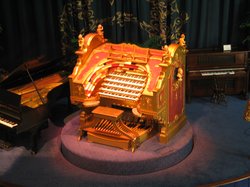 April 27 -- Joliet Area Theater Organ Enthusiasts Concert.
As part of the Joliet Rialto Theater Festival (Saturday April 26), JATOE comes to the Sanfilippo Estate for a Wurlitzer Concert on Sunday, April 27 with Organists Jelani Eddington, Chris Elliot, and Pierre Fracalanza. Join JATOE on one or both days with three fabulous organists and the University of St. Francis Symphony on Saturday and on Sunday at the Sanfilippo Estate with the three organists.
Sunday includes time to tour the Collection and a dessert buffet in the Carousel Pavilion, following the concert. For tickets call Jim Patak at 708-562-8538 or email jpatak31@att.net. More information: www.jatoe.org/fest.html
---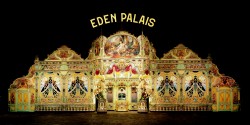 May 10 -- Michael Joseph Foundation High Tea & Fashion Show.
Here's an opportunity to tour the Sanfilippo Collection in the Residence, followed by a luncheon High Tea and Fashion Show in the Carousel Pavilion. Men are most welcome, too!
For tickets and more information call Ida Cardelli at 847-639-2334. Proceeds benefit the Michael Joseph Foundation, a local Barrington, nonprofit organization: www.michaeljosephfoundation.org. Ladies, you can wear your best Spring outfits and Spring hats!
---
May 17 -- Home of the Sparrow Phantom of the Opera Concert and Masquerade Gala.

Join us for a tour of the Collection, a Phantom of the Opera Concert with Organist Jelani Eddington, followed by a Masquerade dinner reception, with auctions and raffles, in the Carousel Pavilion. For tickets and more information Click Here.


Proceeds from this event assist women and children with transitional shelter, affordable homes, and supportive services. www.hosparrow.org/events/phantom-of-the-opera-concert-masquerade-gala. This one's going to be a lot of fun!
---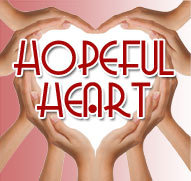 July 12 & 13 -- Hopeful Heart Concerts
Hopeful Heart, Inc. was created specifically to give a "helping hand" to musicians, writers, artists, dancers, and others in the arts who are facing medical difficulties and challenges.
Most of these artists are self-employed and without health insurance and are facing life-threatening illnesses such as cancer, AIDS, heart attacks, and strokes. Hopeful Heart offers direct monthly financial assistance, helping them pay rent, utilities, medical bills, and other expenses.
More details coming soon!
---

July 24 and August 10 - Woodstock Mozart Festival - In Partnership With The Sanfilippo Foundation
Visit the Festival Page for more information and tickets.
---
SAVE THE DATES
***5th Annual Sanfilippo Foundation Summer Concerts; June 21, July 19, August 23, & September 20, 2014
For more details and to purchase tickets, visit the Summer Concert Page.
***2014 Christmas Concerts - Dec. 5, 6, & 7, 2014
---
Return to this webpage for an update of our 2014 Summer and Fall events open to the public. You can also join our E-Newsletter List (below) and be among the first to receive notice of all our events, and how to obtain tickets.
---
Visiting the Sanfilippo Estate
The Sanfilippo Estate is a private residence not open to the general public except through pre-arranged charity events and pre-arranged group tours of 40 or more guests, and a limited number of corporate events. Interested groups may contact the Foundation Director by email: director@sanfilippofoundation.org for more information. We do not offer the Estate for weddings, wedding related activities, nor children's parties.
Special Events (concerts, gala fundraisers) can be arranged for Charity Organizations and Corporate Groups. Email the Sanfilippo Foundation Director: director@sanfilippofoundation.org. Please include a contact phone number.
Tour Groups: 3-Hour, Docent-Guided Tours of the Sanfilippo Collection are available for groups of 40 or more. Send an email to: info@sanfilippofoundation.org. Please include the name of your group and a contact phone number.
Individuals looking to visit the Estate are encouraged to find a group (such as your local libraries, park districts, senior centers, etc.) who can put together the required minimum for one of our 3-hour Docent-Guided Tours and then have the organization contact the Foundation Director; or you can visit one of the websites of the charities holding events at the Estate (links provided) and obtain tickets to an event listed; or you can attend a Sanfilippo Foundation event -- all are updated regularly on this website. We also encourage individuals to sign up for our E-Newsletter. On occasion, we offer individual tickets to a guided tour to our E-Newsletter subscribers. Our preference for initial contact is by email.
Join our mailing list:
Please be assured that we never sell or exchange email addresses, this is for the Sanfilippo Foundation use ONLY.