Upcoming Events at The Sanfilippo Foundation
Events, News and Tour Opportunities
July 30 - Midwest Mozart Festival Concert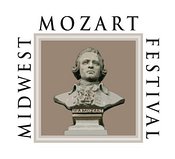 For the last three years, the Sanfilippo Foundation has hosted this exceptionally talented Orchestra to rave reviews from attendees. We are proud to bring them back for a July 30th, Sunday afternoon Mozart performance in our intimate theater.
Doors open at 1:30 pm for touring, with the concert at 3:00 pm in the Sanfilippo Theater, followed by a visit to the Carousel Pavilion for a ride on the 1890 Eden Palais Carousel and more.
Visit the Midwest Mozart Festival page for more information and to purchase tickets.
---
August 5 - The Harp Twins in Concert at the Sanfilippo Estate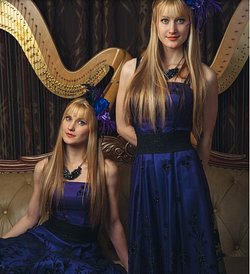 The Harp Twins, Camille and Kennerly Kitt, are recognized for their remarkable duet harp arrangements of songs by artists such as Guns N' Roses, Iron Maiden, Led Zeppelin, Metallica, Ozzy Osbourne Aerosmith, AC/DC, The Rolling Stones, Blue Oyster Cult, Scorpions, Eagles, The Police, Bon Jovi, Pink Floyd, U2, Journey, Billy Idol, The Beatles, Deep Purple, and many more, performed on classical and electric harps. The twins also arrange and perform TV and Movie Soundtrack, Anime, Video Game hits, and original songs.
Join us for a fascinating evening of music and hear their story. Classically trained in Harp, they have revolutionized the way harps are played and travel the world performing. They have filmed 6 videos at the Sanfilippo Estate and we are announcing this concert in conjunction with their latest video release, recently filmed at the Estate. View them at www.HarpTwins.com and www.youtube.com/user/CamilleandKennerly
Tickets are limited and must be pre-ordered. (No tickets will be available at the door). As a bonus, our doors will open at 6:30 pm for touring the Sanfilippo Collection in the Residence, followed by the 90-minute concert at 8 pm. After the concert, we'll open up the Carousel Pavilion and offer a "Meet & Greet" with Camille and Kennerly. You can ride the 1890 Eden Palais Carousel after the concert, too.
Tickets are only $35 each, because it's also a special fund raiser for Cuba Township Food Pantry. We are giving our guests the option to bring a nonperishable and non-expired food item to help out those in need. Drop off will be immediately inside our front doors. Here's a sample list of items always in need:
Chicken or Vegetable Broth -- Canned Fruit -- Healthy Snacks -- Baby Wipes -- Laundry Detergent.
Let's help the Cuba Township Food Pantry fill their shelves during a normally slow time for donations. Thank you.
Buy your tickets today:
---
August 12 - Carousel of Possible Dreams Gala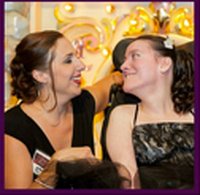 A collaboration with the Festival of Children Foundation in California, this is an extraordinary opportunity to enjoy the Sanfilippo Collection, an elegant cocktail reception in the Carousel Pavilion, and ride the Eden Palais Carousel while raising donations for 4 great children's charities.
Here's a challenge for you to commit to a personal fund raising online page and a dollar amount, contact your friends and colleagues to raise funds, and then come do 50 victory laps on the Eden Palais Carousel. If you're a bit short on your goal, we'll have you dialing/texting for dollars while riding the carousel, all in fun, for the kids. Or join an existing team in support of one of our 4 children charities and convince your work colleagues to help you reach your goal, then take your ride at the event. We are raising funds for Ronald McDonald House Charities of Chicagoland and NW Indiana, Cure Duchenne, Marklund Wasmond Center at Little Angels (Elgin, IL), and Pediatric Cancer Research Foundation. All funds raised at the event go to your choice of one or more of these 4 participating charities.
Check out how you can help and enjoy the evening, with WGN's Nancy Loo as our Emcee. For more information and to buy tickets, visit the Festival of Children Foundation Website.
---
August 15 - Docent-Guided Tour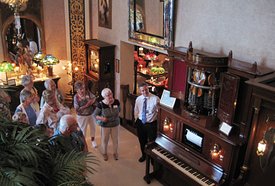 We get many requests for individual tickets for one of our 3-hour Docent-Guided Tours of the Sanfilippo Collection. This tour includes two hours in the Sanfilippo Residence and one hour in the Carousel Pavilion with the Foundation Director as your tour guide.
Come hear the story of the family and Collection, demonstrations of a variety of music machines, a mini-concert on the Mighty Wurlitzer and a the history of the items in the carousel pavilion. There's a reason many folks have taken this tour more than a few times! It's educational and highly entertaining.
Cost is $25 per guest. Limited tickets available; first come, first served. Tickets only available through The Sanfilippo Foundation Website.
August 15 at 1:30 pm - 3 hour guided tour:
---
August 19 and September 9 - The Sanfilippo Summer Concert Series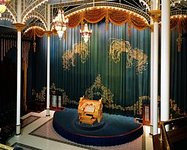 The weather's warming up and that means it's time for the annual Summer Concert Series at the Sanfilippo Estate. Each year we bring you the finest musical entertainment from across the globe. Each concert is unique and something just a little out of the ordinary, always leaving you with the feeling that you've seen something special.
Join us for another one-of-a-kind experience this year and visit our Summer Concert page for more information.
---
SAVE THE DATES:
October 28 - Annual Sanfilippo Halloween Gala
December 8, 9, & 10 - Sanfilippo Christmas Concerts
---
Return to this webpage often for an update of our events open to the public. You can also join our E-Newsletter List (below) and be among the first to receive notice of all our events, and how to obtain tickets.
---
Visiting the Sanfilippo Estate
The Sanfilippo Estate is a private residence not open to the general public except through pre-arranged charity events and pre-arranged group tours of 40 or more guests, and a limited number of corporate events. Interested groups may contact the Foundation Director by email: director@sanfilippofoundation.org for more information. We do not offer the Estate for weddings, wedding related activities, nor children's parties.
Special Events (concerts, gala fundraisers) can be arranged for Charity Organizations and Corporate Groups. Email the Sanfilippo Foundation Director: director@sanfilippofoundation.org. Please include a contact phone number.
Tour Groups: 3-Hour, Docent-Guided Tours of the Sanfilippo Collection are available for groups of 40 or more. Send an email to: info@sanfilippofoundation.org. Please include the name of your group and a contact phone number.
Individuals looking to visit the Estate are encouraged to find a group (such as your local libraries, park districts, senior centers, etc.) who can put together the required minimum for one of our 3-hour Docent-Guided Tours and then have the organization contact the Foundation Director; or you can visit one of the websites of the charities holding events at the Estate (links provided) and obtain tickets to an event listed; or you can attend a Sanfilippo Foundation event -- all are updated regularly on this website. We also encourage individuals to sign up for our E-Newsletter. On occasion, we offer individual tickets to a guided tour to our E-Newsletter subscribers. Our preference for initial contact is by email.
Join our mailing list:
Please be assured that we never sell or exchange email addresses, this is for the Sanfilippo Foundation use ONLY.