Upcoming Events at The Sanfilippo Foundation
Events, News and Tour Opportunities
---
Check Back Soon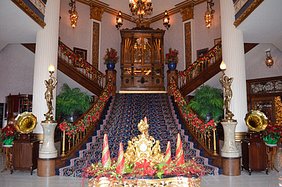 We're busy putting together our schedule for 2018. As usual, we'll have many unique, one-of-a-kind musical experiences and tours to share with you, all benefiting local charities.
Charities Assisted by the Sanfilippo Foundation - 2017
WINGS - Women in Need Growing Stronger - Palatine
Seminarians - St. Mary of the Lake
Pleasant Home Foundation - Oak Park
Faith Lutheran High School - Crystal Lake
Youth & Family Counseling (2 events) - Libertyville
Michael Joseph Foundation - Barrington
The Great Lakes Alliance - Chicago
Home of the Sparrow - McHenry
Music Box Society Internatinal, Lake Michigan Chap.
Illinois Railway Museum - Union, IL
Barrington Area Conservation Trust - Barrington
Barrington Children's Charities - Barrington
Midwest Veterans Closet - North Chicago
Midwest Mozart Festival (2 concerts) - Woodstock
American Theater Organ Society - Youth Adventure (15 young organists)
Cuba Township Food Pantry
Carousel of Possible Dreams - Costa Mesa, CA (funding 4 charities):
Ronald McDonald House Charities of Chicagoland & NW Indiana
Marklund Wasmund Center at Little Angels (2 events) - Elgin
Cure Duschenne
Pediatric Cancer Research Foundation
Arden Shore Child & Family Services - Waukegan
Berkshire Ballet - Crystal Lake
Barrington Youth Dance Ensemble - Barrington
Dancewerks: Midwest Dance Collective, Scholarships - Barrington
Student Silent Film Night - 10 local High Schools participated
Spirito Singers - Oakbrook
Fox River Grove District 3 Parent Teacher Organization - Fox River Grove
Helping Hands Center - Countryside
Lake Zurich High School Orchestra Parents Booster Club - Lake Zurich
Make-A-Wish Foundation - Chicago
South Barrington Garden Club - South Barrington
St. Jude Children Research Hospital
Thomas J. Boyle Jr. Memorial Foundation (Toy donations to 7 charities):
Hines Fisher House
University of Chicago Medicine Comer Children's Hospital
St Francis Solanis Parish
Shadow Warriors
Operation Ward 57 - Wounded Veterans & Gold Star Families
Let It Be Us - Barrington
Barrington Children's Charites, Sunnyside School - Barrington
We conducted over 60 Docent-Guided Tours in 2017; Four Foundation Summer Concerts; Two Armed Forces Day Concerts; A Harp Twins Concert; two Midwest Mozart Festival Concerts; a Sustainability Forum; our Halloween Silent Movie Gala; a Student Silent Film Festival with 10 high schools participating; and nearly 2200 guests joined us at seven Christmas Concerts. We even had a marriage proposal done on the carousel; we wish the happy couple, Jeff & Lou, all the best.
Yes, it's been a busy year, and we'll take a few months off for the winter to give the Sanfilippo Family some quiet time to reflect on the impact they've had on us all, and especially on those people our charity partners serve. It is with profound love that the Sanfilippo family gives their private home to serve these needs, and for the enjoyment of us all. I have, and will, pass along your thanks to Jasper and Marian, Jeffrey and Rusty, and the entire Sanfilippo family for opening their home and hearts to us all.
---
Return to this web page often for an update of our events open to the public. You can also join our E-Newsletter List (below) and be among the first to receive notice of all our events, and how to obtain tickets.
---
Visiting the Sanfilippo Estate
The Sanfilippo Estate is a private residence not open to the general public except through pre-arranged charity events and pre-arranged group tours of 40 or more guests, and a limited number of corporate events. Interested groups may contact the Foundation Director by email: director@sanfilippofoundation.org for more information. We do not offer the Estate for weddings, wedding related activities, nor children's parties.
Special Events (concerts, gala fundraisers) can be arranged for Charity Organizations and Corporate Groups. Email the Sanfilippo Foundation Director: director@sanfilippofoundation.org. Please include a contact phone number.
Tour Groups: 3-Hour, Docent-Guided Tours of the Sanfilippo Collection are available for groups of 40 or more. Send an email to: info@sanfilippofoundation.org. Please include the name of your group and a contact phone number.
Individuals looking to visit the Estate are encouraged to find a group (such as your local libraries, park districts, senior centers, etc.) who can put together the required minimum for one of our 3-hour Docent-Guided Tours and then have the organization contact the Foundation Director; or you can visit one of the websites of the charities holding events at the Estate (links provided) and obtain tickets to an event listed; or you can attend a Sanfilippo Foundation event -- all are updated regularly on this website. We also encourage individuals to sign up for our E-Newsletter. On occasion, we offer individual tickets to a guided tour to our E-Newsletter subscribers. Our preference for initial contact is by email.
Join our mailing list:
Please be assured that we never sell or exchange email addresses, this is for the Sanfilippo Foundation use ONLY.