Upcoming Events at The Sanfilippo Foundation
Events, News and Tour Opportunities
April 1 - Faith Lutheran High School Tour & Wurlitzer Concert Fund Raiser, with Organist Martin Ellis

Tour the Collection up to 90-minutes in the Sanfilippo Residence, and hear the 8,000 pipe Mighty Wurlitzer Theater Organ.
For tickets call Donna at 815-479-9305. Doors open at 6 pm, Concert 7:30 pm. Tickets $60 before March 16. $75 after March 16. Proceeds benefit Faith Lutheran High School and its programs.
---

April 9 - Magical Music: Youth & Family Counseling (Libertyville), Tour & Concert Featuring Jelani Eddington
Tour the Collection in the Sanfilippo Residence, and hear master Organist Jelani Eddington on the Wurlitzer while supporting health counseling for teens and adults.
A rare, Sunday afternoon event, doors will open at 2 pm for touring the Collection, with the Wurlitzer Concert at 3:30 pm. For Tickets click here. Tickets are $75 each.
---
April 11 - 14 (by appointment) - Beautiful Things with Wings Calendar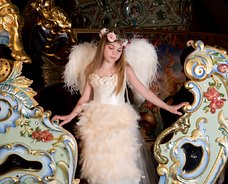 Photographer April Graves of Light Drawn Studios will be photographing children for the upcoming 2018 Beautiful Things with Wings calendar. Angel portrait sessions will take place April 11th-14th by appointment. The Sanfilippo family has graciously allowed these exquisite portraits to be created annually on the 1890 Eden Palais Carousel in support of the WINGS - Women in Need Growing Stronger - organization.
Do not miss this special opportunity to have your child photographed as an angel (wings and halos are provided). Dresses available in multiple sizes as well. These portrait sessions are truly a magical experience and a wonderful way to teach your children to give to those in need. This is a rare opportunity to have a professional portrait on the European Salon carousel for a great cause.
Proceeds from the sales of these calendars go to support WINGS, a local non-for-profit organization that provides shelter and services for women and children who are victims of domestic violence.
Call Light Drawn Studios at 224-622-2800 to schedule your session. To view more of April's work you can visit her website at www.lightdrawnstudios.com or by visiting Beautiful Things with Wings on Facebook. You can learn more about how you can help by visiting www.wingsprogram.com.
---
April 22 - Michael Joseph Foundation Fashion Show, Boutique, and Touring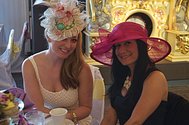 Wear you best Spring Hat and join us for a relaxing afternoon of fun. Tour the Sanfilippo home and shop the Spring Boutique for one of a kind items, in the Carousel pavilion. Then see the latest of local fashion, as you dine on a delicious lunch. All for a great cause. This organization is 100% volunteer run, and provides assistance to the homeless in our area and more.
For tickets, call Ida Cardelli at 847-639-2334. Tickets are only $75 each. Yes, you read that correctly. This will sell out fast! Shopping ladies! Lots of shopping, raffles, and a fashion show, too.
---
April 26 or May 3 - Docent Guided Tour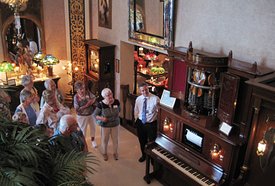 We get many requests for individual tickets for one of our 3-hour Docent-Guided Tours of the Collection. This tour includes two hours in the Sanfilippo Residence and one hour in the carousel pavilion with the Foundation Director as your tour guide. So, as a thank you for subscribing to our E-Newsletter, we are offering the following opportunities to purchase an individual ticket to a guided tour:
April 26 - Wednesday - 9:30 am
May 3 - Wednesday - 1:30 pm
Cost is $25 per guest. Limited tickets; first come, come first served. Tickets only available through the Sanfilippo Foundation website, tickets will not be available at the door.
Come hear the story of the family and Collection, demonstrations of a variety of music machines, a mini-concert on the Mighty Wurlitzer and the history of the items in the carousel pavilion. There's a reason many folks have taken this tour more than a few times! It's educational and highly entertaining. These always sell out quickly, so don't delay.
We're sorry, but both tours are SOLD OUT. Please consider joining us for one of our other events.
---
May 20 - Sanfilippo Armed Forces Day Wurlitzer Concert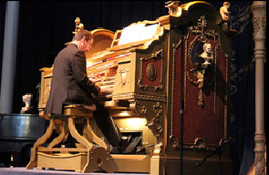 Featuring Organist Dave Wickerham. Experience stirring, patriotic songs on the Mighty Wurlitzer showing off the spectacular side of the theater organ. Special Guest singer, Bass-Baritone William Powers, too, and discounted pricing for our E-Newsletter Subscribers. Last year these concerts sold out quickly, so don't delay!
Includes time to tour the Collection in the Residence. Join us for a grand tribute to our Veterans and Armed Service members.
Tickets cost $35 and will be sold online only - please, no phone calls.
---
SAVE THE DATES:
April 29 - Home of the Sparrow Fund raising Concert & Gala, with Organist Jelani Eddington, and dinner in the Carousel Pavilion
June 17 - 1st Sanfilippo Summer Concert
July 15 - 2nd Sanfilippo Summer Concert
August 19 - 3rd Sanfilippo Summer Concert
September 9 - 4th Sanfilippo Summer Concert
October 28 - Annual Sanfilippo Halloween Gala
December 8, 9, & 10 - Sanfilippo Christmas Concerts
---
Return to this webpage often for an update of our events open to the public. You can also join our E-Newsletter List (below) and be among the first to receive notice of all our events, and how to obtain tickets.
---
Visiting the Sanfilippo Estate
The Sanfilippo Estate is a private residence not open to the general public except through pre-arranged charity events and pre-arranged group tours of 40 or more guests, and a limited number of corporate events. Interested groups may contact the Foundation Director by email: director@sanfilippofoundation.org for more information. We do not offer the Estate for weddings, wedding related activities, nor children's parties.
Special Events (concerts, gala fundraisers) can be arranged for Charity Organizations and Corporate Groups. Email the Sanfilippo Foundation Director: director@sanfilippofoundation.org. Please include a contact phone number.
Tour Groups: 3-Hour, Docent-Guided Tours of the Sanfilippo Collection are available for groups of 40 or more. Send an email to: info@sanfilippofoundation.org. Please include the name of your group and a contact phone number.
Individuals looking to visit the Estate are encouraged to find a group (such as your local libraries, park districts, senior centers, etc.) who can put together the required minimum for one of our 3-hour Docent-Guided Tours and then have the organization contact the Foundation Director; or you can visit one of the websites of the charities holding events at the Estate (links provided) and obtain tickets to an event listed; or you can attend a Sanfilippo Foundation event - all are updated regularly on this website. We also encourage individuals to sign up for our E-Newsletter. On occasion, we offer individual tickets to a guided tour to our E-Newsletter subscribers. Our preference for initial contact is by email.
Join our mailing list:
Please be assured that we never sell or exchange email addresses, this is for the Sanfilippo Foundation use ONLY.